Week 4: March 7-11
Dear All,
Please find the news and updates for this week below:
1. Common Time Professional Development Sessions
Last week, the first session of ScOLa TLDU INSET was held with the participation of 19 instructors. The first session focused on how the lexical syllabus was developed in our school and what to teach in a receptive skills lesson in terms vocabulary. The recording of the session is available in our Z-Drive under TLDU folder.
This week, the training will continue with its second session where the focus will be on teaching vocabulary at productive level. Instructors who could not attend the first sitting but are interested in joining the second one may send an email to Kezban by 08.03.2022 until 17:00.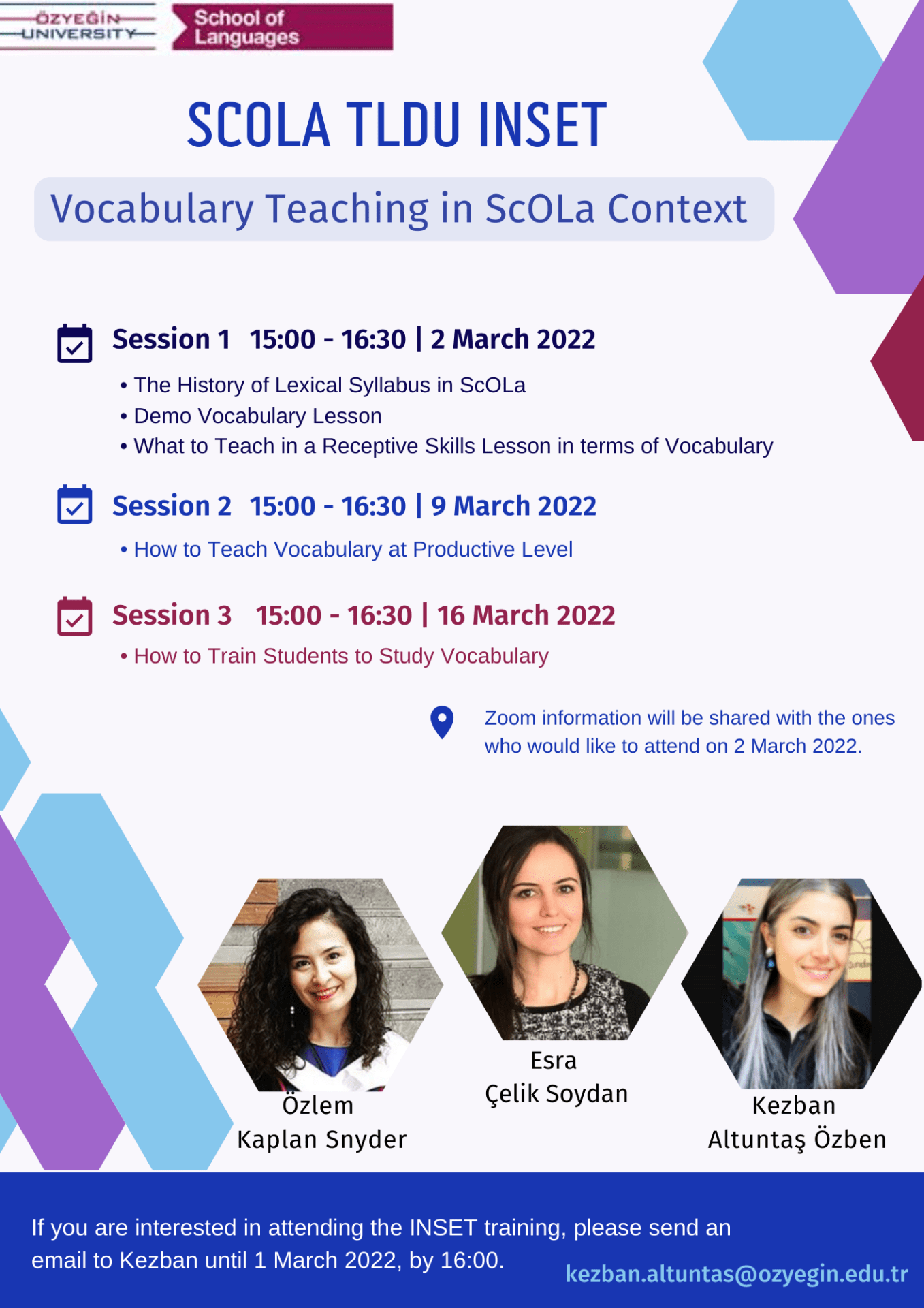 2. Student Development Sessions
As you all know, we are starting our live Student Development Sessions this week. All the sessions this semester will be delivered in English. As always, the students who join these sessions will be rewarded with SEC101 credits.
This week, our colleague, Babak Jahanaray, is going to give a session on "How to Revise Vocabulary Effectively" on Wednesday, March 9, between 14:45-15:35. You can see the session poster and details below.
As a suggested task for this session, students were reminded through ScOLa-Extra Curricular Activities LMS page to watch the recording of "How to Study Vocabulary" session by Esra Çelik Soydan from the previous semester before this session as there will be references to it and our students will benefit from this week's session more if they come to the session having watched it. These previous session recordings from the Fall Semester are accessible to our students at the bottom section of our ScOLa-Extra Curricular Activities LMS page.
Please encourage your students to attend this session.