Quality Talk Series #3: Teacher Insights
You are cordially invited to Quality Talk Series #3: "Teacher Insights"
"Quality Talks" is a series of online event organized with the collaboration of Ozyegin University and Macmillan Education. It aims at providing insight into quality assurance in education and language learning and teaching in the post-Covid era. The series will consist of multi-phased panel discussions and sessions focusing on quality during distance education and beyond from the perspective of learners, teachers, teacher trainers, managers, education faculty members and education specialists with a variety of background.
The third session of the event, 'Teacher Insights', will look at 'quality' from teachers' perspectives. It will be held on Thursday, 17th at 15:30. The registration link can be found here.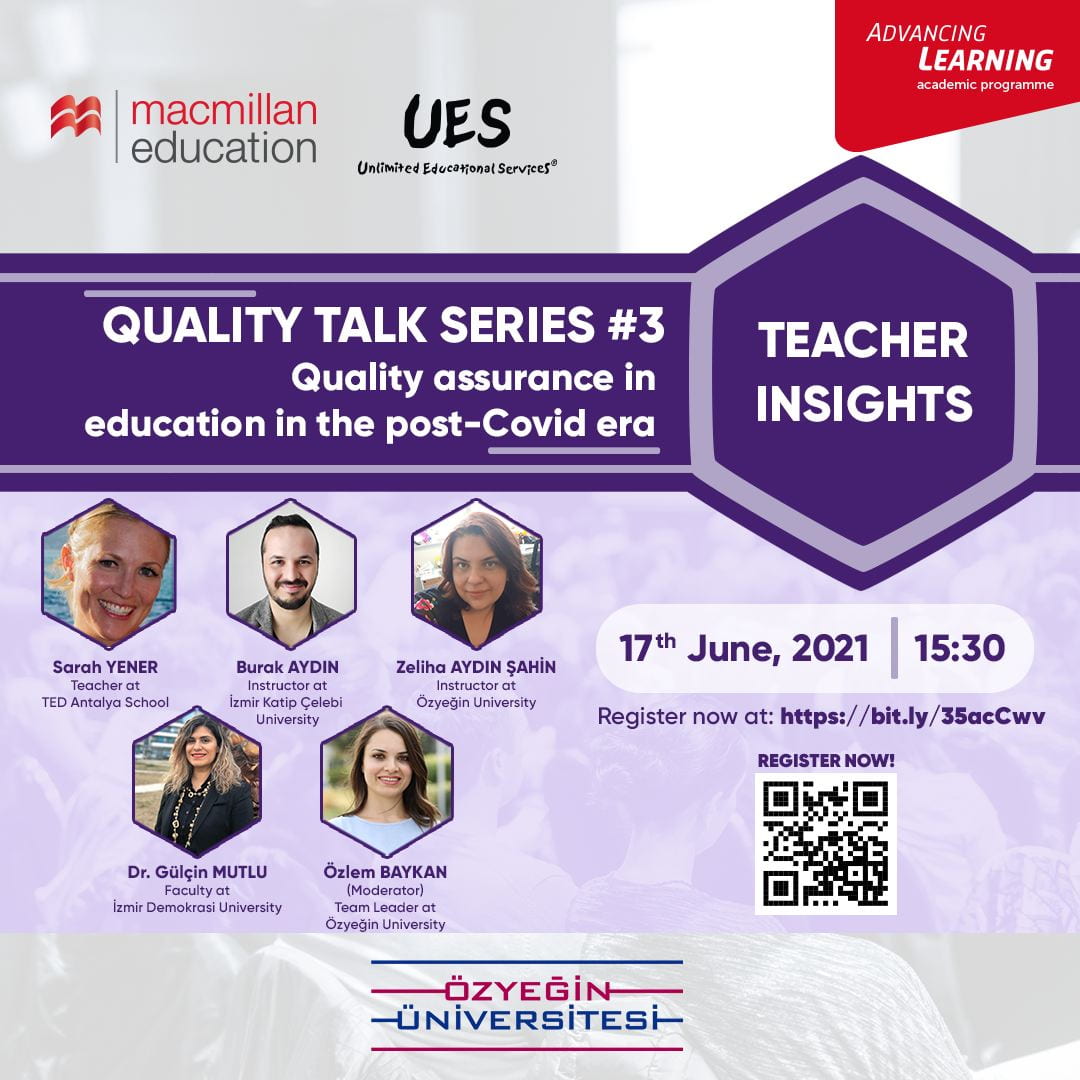 QUALITY TALK SERIES #3 TEACHER INSIGHTS
Sarah Robertson Yener currently serves as the International Accreditation Coordinator at TED Antalya College.  Originally from New York City, she has been teaching in Turkey for over 20 years, working in primary, secondary and high school. She is a teacher trainer, assessment rater for the New English Test (NET) for Japanese University candidates, a test item writer for the Business English Test (BET) for Japanese graduate students and a published ESL children's book author. She has a keen interest in curriculum development, internationalisation, and family engagement. She spends a lot of time talking, wondering, researching, and asking questions.
Burak Aydın is an Instructor of English and a licensed teacher trainer for SIT TESOL Certificate Course. Apart from working at tertiary level preparatory program, he also has experience in mentoring and supervising language teachers as a member of professional development unit. In the field of teacher training, he has been researching and presenting at ELT conferences, INSET PD events and various educational institutions.
Zeliha Aydın Şahin holds an MA degree in English Language Teaching and has been teaching English in Turkey since 2007. She is a former Fulbright grantee and has been working at Özyeğin University as an instructor of English for 10 years. She teaches English at various levels and runs an extracurricular project for prep students. She is especially interested in integrating technology into ELT, materials and curriculum design, and methodology.
Gülçin Mutlu is a doctor of Curriculum and Instruction at İzmir Democracy University in İzmir, Turkey. She holds an MA in the field of Teaching English as a Foreign Language from Bilkent University and a Ph.D. in the field of Curriculum and Instruction from Middle East Technical University. Her research interests include research-driven curriculum design, foreign language education, alternative teaching and learning processes, instructional planning and assessment and learning environment characteristics. She has several publications related to teacher education systems, authentic instruction, curriculum design, learning environments research and foreign language instruction.
Özlem works as an English Language Instructor and a Team Leader at Özyegin University. She received her BA and MA degrees in English Teacher Education from Bilkent University in 2010. Then she started her career at Ozyegin University where she has been working for 11 years. Before her current role, she worked as a Level Coordinator.  She holds a DELTA and is a CELTA Trainer. Her current areas of interest include quality assurance, motivation, performance evaluation and well-being.