Week 6: 04-08 March
Dear all,
please find the news and updates for this week below:
1. Coffee time:  Coffee time with the director has started and so far Nergis Uyan has met three different groups to have a chat over a cup of coffee.
2. Reading Club:
ScOLa Reading Club met for the second time last week to share their perspectives on the article "Why Don't Students Like School?".  During this two-hour idea-sharing session, the participants discussed their notes on the following questions:
What is the author's answer to the question of why students don't like school?

To what extend do you agree/disagree with the answer?
Would that answer guide us into creating the right conditions for learning? How?

How would you reflect on the suggested implications?

Which of those you believe may have guided your way of teaching so far?
Which activity/task types or classroom procedures does each implication remind you of?
The third session will be held on 14.03.2019-Thursday.
3. Common Time Developmental Sessions:
You can find this week's session information below:
Please send an e-mail to sultan.zeydan@ozyegin.edu.tr by Wednesday if you would like to attend this session so that she can make the necessary arrangements.
4. MA Thesis Presentation: 
Meltem Akpınar Yılmaz presented her MA dissertation entitled "The Perceptions of The Team Leaders Working in a School of Foreign Languages About School Effectiveness: A Case Study" to inform the ScOLa management group about the aim, methodology and findings of her study.
5. SEC 101 – ScOLa Seminar:
Khosro Vahabi, from the UGE program, gave a session entitled "A More Sustainable ÖzU-The Fight against Single-use Plastic". The session was open to all ÖzU students aiming at raising the awareness of our students regarding the issue, and 45 students attended the session.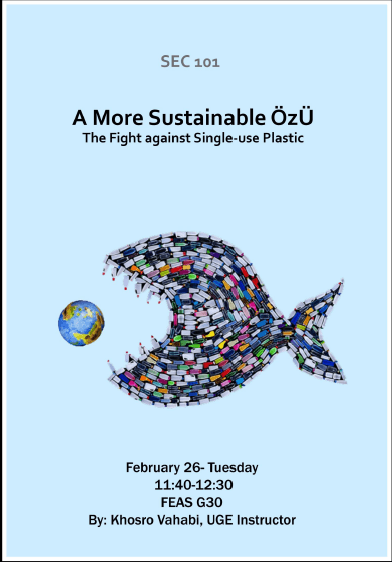 6. March Birthdays: