Eaquals 2023 Conference Reflection
This year's EAQUALS International Conference took place in the city of Tallinn in Estonia between April 27 and 29. Ayşegül Karaman, Nergis Uyan, Özlem Baykan, Selen Şirin Dülger, and Serkan Aras represented our university at the conference this year. Below are some highlights from the conference as well as personal reflections.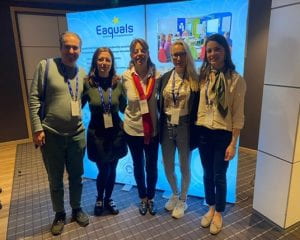 MANAGEMENT TRAINING DAY
On the first day of the conference, Management Training was delivered by Nergis Uyan and Özlem Baykan. The training entitled "Examining the Four E's of Quality" aimed at providing participants with the opportunity to gain a deeper insight into establishing and maintaining a culture of quality in their institutions by exploring the four E's – Encourage, Excel, Evaluate, Ensure.
The management training included three sessions aiming to achieve the following outcomes:
the meaning of quality for all stakeholders at an educational institution
the role of vision, mission, and values of an organization in ensuring quality
different ways of ensuring higher employee engagement
individual and institutional competence
systematic evaluation of institutional and individual performance
the role of effective leadership in ensuring quality
quality assurance systems and practices
Around 55 participants from around the world attended the management training including managers, leaders, and coordinators from universities, language schools, or other language education institutions or companies. Through the sessions, they had the opportunity to reflect on and share their own experiences and practices, exchange ideas, and consider how to implement these four elements at an individual and institutional level.
Below is a brief reflection of Nergis and Özlem on the management training day.
"It was a great opportunity to come together with the managers and leaders from around the world and discuss 'quality' on Eaquals Management Training Day. This was an extension of our 'Four E's of Quality' training course for which we received the Eaquals Member Event Fund last year. The Training Day gave us a great opportunity to reach a wider community in our field during the conference. It was truly a great experience! We were pleased to deliver the training and have the opportunity to interact with the participants who contributed to the sessions with their valuable ideas, practices, and expertise. The training received very positive feedback and hopefully, the implications will benefit the field of education as well as the society. Our quality journey continues…"  
THE PRESENTATIONS by ScOLa
During the conference, Selen Şirin Dülger & Serkan Aras gave a presentation entitled 'A reflection and development tool for managers: the EAQUALS AMCF' and below is their reflection:
It was one of the elective sessions on the theme of management and we delivered our presentation on the second day of the conference. During our session, we mainly shared our personal experience with the EAQUALS' latest framework, Academic Management and Competency Framework (AMCF), and talked about how we benefited from it as line managers in our institution for our professional development. We started our presentation by giving brief information on the purpose and the underlying principles of the framework as well as the key categories & the sub-categories in the framework. We then shared the process we went through to make use of the framework as a reflective and developmental tool in our institution. After a series of initial sessions held by our director, Nergis Uyan, on what the framework is for and how we could use it as a performance evaluation tool for the line managers in ScOLa, we adapted the framework in such a way that we could also get feedback from the teachers we closely work with on our performances as a team leader and coordinator. This way, we started to use the AMCF to get feedback from our director and the teachers we work with as well as use it as a self-evaluation tool. Triangulating all the FB received from these three parties, we came up with an action plan for the following academic year and we are still in the process of acting upon the actions we decided on. We hope to continue using AMCF to develop ourselves as line managers.
Anna Kolbuszewska, Gillian Davidson, and Nergis Uyan, three members of the working group who developed the EAQUALS Academic Management Framework were there as well, and they reported that they were really happy to see how the framework has been put into practice.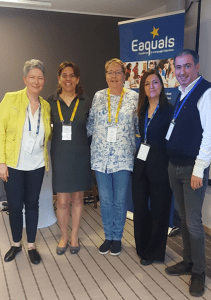 Ayşegül Karaman also gave a presentation entitled 'Can we agree to disagree? Managing conflict: A guide for Managers at Schools' and her reflection is as follows:
In my presentation, I talked about the theories and resolutions of conflict at the workplace underlining the crucial role of managers in mitigating against conflict. Since there are few studies on how managers should fulfill this HR role in an ELT context and how they should supervise the process of conflict management successfully, my presentation was on some insights regarding the nature of conflict at workplace and how a team of managers working in my institution identifies and utilizes various strategies for conflict management. I started my session by giving different definitions of conflict and the concepts related to this term. I shared the different views of scholars who perceive conflict in negative and positive terms. Then I listed some roles of managers who are charged with some responsibilities of coming up with better ways of handling conflict in their schools through following set rules and procedures, having the appropriate skills, using their power consistently and fairly taking the different personalities of people into consideration. Specifically, I talked about the roles of school managers in an educational setting which can be summarized as identifying, mentoring, coaching, monitoring, and delegating. I shared the causes of conflict which are usually institution, work, and leadership-related issues. Although the causes seem endless, I emphasized that while unresolved or poorly resolved conflict can have devastating consequences on productivity, a well-managed workplace conflict can promote teamwork, efficiency and therefore, increased productivity towards the realization of organizational goals.
In the second part of my presentation, I explained the five conflict management styles in detail and how these conflict situations offer managers an opportunity to choose a style they believe is more appropriate to respond to the prevailing conflict in their educational settings.  In the last part of my presentation, I shared the results of my survey that was conducted with my colleagues who have manager roles in ScOLa.  According to the result of the survey, to handle interpersonal conflicts in our institution, nearly all of the colleagues possess and use the collaborating style which is one of the ways of promoting creative problem-solving, fostering mutual respect and rapport, and a way of using effective communication skills. I also showed the case studies to the participants of my session and asked their opinions about what they would do if they were in this manager's shoes.  It was fun and interesting to hear their approach, which caused a fruitful discussion among the participants.  I ended my presentation listing some guidelines to manage conflict, some of which are activating training workshops for staff of organizations on conflict resolution and procedure and enhancing effective communication with all stakeholders in the school to minimize causes of conflict.
PLENARY SESSIONS AND ELECTIVE SESSIONS
As usual, this year's conference was organized around the following four themes:
Leadership and Management
Staff Development and Wellbeing
Course Design, CEFR and Assessment
Language Teaching and Learning
On top of the opening and closing plenaries, there were a variety of elective sessions on these themes and we had the opportunity to attend most of them. Below are our general reflections and learning points about these sessions:
The conference started with the opening plenary by Rose Aylett, a freelance training consultant and CELTA tutor based in Liverpool, UK. She has been working in ELT for over 15 years, predominantly in Europe, the Middle East, and North Africa, and has a long-standing professional interest in critical pedagogy, global citizenship, and social justice education. In line with her interest in such important issues, Rose delivered her opening plenary focusing on how to embed critical literacy within language education. Throughout her plenary speech, she talked about how language teachers should be critically literate practitioners so that language teaching can foster criticality for active and reflective social involvement amongst students. She explored practical ideas to achieve this by referring to Lewison et al.'s (2002) four dimensions framework of critical literacy. She argued that language teachers can encourage their students to be critical learners by making adaptations in course design, course materials, and everyday teaching practices.
As one of the elective sessions in the conference, Liam Brown, a manager, trainer, writer, and consultant focusing on business communication, collaborative learning, people management, and decision-making at work, delivered a session, entitled 'Managers and leaders – see how you can engage and inspire your teams through these challenging times'. In this session, he mostly focused on 'engagement' and defining what it means, he talked about how to integrate it into how we work. He made use of the analogy of 'clock vs. compass' to argue that managers need both. The clock representing deadlines, and meetings and the compass representing vision, values, etc. are two things that managers will always have and need to have in their lives. He said 'the clock is no good without the compass'. He also argued that an effective manager needs to be aware of the employee experience & s/he needs to know what is happening in his/her team. With these two things in mind, throughout his session, he helped us think about how to motivate and engage people at work, or in his definition of engagement, 'how to make people sing on the way to work'. He listed six factors contributing to employee engagement:
The value of the work
Relationships with colleagues
Opportunities to use skills and abilities
Relationship with the line manager
Contribution of work to the success of the school
Autonomy and independence (trust)
He said when these six things are in place, something good happens.
He also explained that there are different elements to employee engagement and these are:
Intellectual element
Emotional element
Social element
He suggested that managers should understand what and how their staff think and feel about their journey and then support them and the choices they make. He also shared that managers should build a profile of staff sentiment by acquiring information on what they feel about the following areas related to their work life:
Recruitment and induction process
Team atmosphere and relationships
Managerial support and recognition
Tools, processes, and resources
Flexibility and work-life balance
And managers should then evaluate the available data to determine actions which should be shared with the employees as a summary, as well. And as always, once actions are taken, managers should monitor, review and adapt as necessary.
In his talk, Liam also recommended we read Sandy Miller's blog post on Jim Fuller's IATEFL talk, entitled 'Top-down and bottom-up needs in a language institution'.
In another elective session we attended, Ania Kolbuszewska talked about how to make difficult conversations easier, mostly addressing managers. Ania started her talk by saying that 'difficult conversations mean difficult feelings, so we might simply avoid them', but in fact, the best thing we can do is to listen to understand instead of listening to respond. While talking about listening to understand, she drew a distinction between 'understanding' and 'agreeing/supporting'. When you listen to understand, that does not mean you have to support the person you are talking to, but that means you promise to listen (not promising to agree or support). The good thing about promising to listen is that if you listen to your employees, they are more likely to listen to you, too. Ania then talked about the following five conflict management strategies:
Avoiding – no one wins
Standing your ground or competing – my way or no way (I don't care whether your needs are met)
Giving in – I will do everything to protect the interests of the other side even if mine is ignored
Collaborating – win-win
Compromising
She also mentioned which strategy to resort to when:
Avoiding – if the issue is not important
Standing your ground – if there is an emergency
Giving in – the relationship is more important than the issues
Collaborating – is great when you try to gain commitment
Compromising – is the best solution if two sides are equally powerful
With regard to making difficult conversations easier, Ania finally talked about how to give feedback. She underlined the fact that feedback needs to focus on facts, not our interpretation of those facts.
In another elective session given by Mike Riley, the Deputy Director of Norwich Institute for Language Education (NILE), entitled 'E-mail: A Friend or a Foe?', the focus was on the number and the nature of e-mail correspondence and how this affects the effectiveness and efficiency of our jobs. Focusing on the huge number of e-mails sent and received on a daily basis with reference to some recent resources, he suggested some guidelines that can be followed to decrease the number of unnecessary e-mails so as to increase the effectiveness of the communication as well as the work. These were:
CC Rule – Being aware of who to cc, why, and thinking of whether it is necessary to see that person or not
Digital Sunset – Setting a time limit to checking & receiving and responding to e-mails outside work
Vacation Policy – It was interesting to see that in a company, if a person is on vacation, the e-mails sent during that period are deleted, so the person never sees them.
Eventual Response – Being aware of when to respond to an e-mail and the idea here was deciding whether it requires a really urgent response, and if not and an eventual response would already work even if it is given later.
Lead by Example – Applying the suggestions and act as a role model in that sense in the workplace
Mike also suggested the book called 'A World Without E-mail – Reimagining Work in an Age of Communication Overload' by Cal Newport.
In the closing plenary on the second day of the conference, Ben Knight, the Head of Pedagogy Research at Oxford University Press, talked about managing teachers' professional development. He reminded us that each teacher is in the best position to judge what they need to work on and what kind of development activities are helpful for them as well as plan their time for professional development. He argues that self-directed professional development has several benefits such as an increase in teacher motivation, teachers' finding self-directed PD more relevant, its contribution to teacher well-being and this being more sustainable. According to Ben, self-directed PD involves the following 7 steps:
Reflect on the current situation
Identify goals and purpose
Select professional development activity
Participate in PD activity
Reflect or discuss PD activity
Try out in practice
Reflect or discuss practice
He also mentioned how institutions can support their teachers in following an appropriate self-directed PD. Institutions can create a community of PD (benefitting from reading groups, joint lesson planning, observations, collaborative reflective practice, dialogic learning, etc.). Institutions can also find ways of showing recognition of teachers' being involved in PD.
Overall, the conference was a great opportunity for us for personal and professional development and we plan to implement useful practices to benefit our own institution and we are already looking forward to the upcoming Eaquals events.