Reflection on Forum on Assessment Issues (FOAI-11) by Selda Gümüş Şambel
LOCATION: Istanbul Medipol University
DATES: 14-15 December 2018.
THEME: Item Writing II: Assessing Reading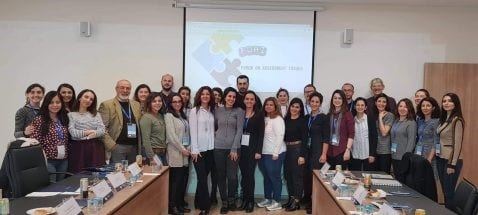 The forum started with the opening speech of Ömer Faruk Yıldız's presentation on the national "4-Skills Exam" by OSYM. He described the modifications they have been running on the new Modular Skills Based exam in which students are tested on a different skill. Then, the forum continued with the presentation by Asst. Prof. Dr. Aylin Ünaldı on "Automatic Text Analysis Facilitating Text Selection in Reading Assessment".
Common Issues explained by her:
• Contextual validity in reading assessment
• Concept of textual complexity
• How automatic tools are used in determining textual complexity
• How the information from automatic tools can guide us
TEST SPECIFICATIONS
• cognitive operations that tasks are expected to trigger
e.g. reading across sentences to elicit implied meaning
• task characteristics
e.g. short-answer
• response method
Written response: two-three words at most
• input characteristics/textual features 4 Context Validity (Weir, 200)
In the afternoon, the participants were divided into 3 groups to have an in-depth discussion on the issue at hand. After long discussions, each group prepared their presentations.
Group 1: Assessing Reading at lower levels (A1-A2)
Group 2: Assessing Reading at Intermediate level (B1)
Group 3: Assessing Reading at higher levels (B2)
On December 15, each group presented their presentations and ideas were shared.
For me, it was a productive forum in which I had the opportunity to meet different people from different universities around Turkey and to learn about their assessment applications on reading. Most universities have clear test specifications and they apply nearly the same methods while writing items for the reading tests. I also learned a lot on how to decide on clear test specifications before writing and administering a reading exam, such as assessing balanced distribution of sub-skills, avoiding overlaps, text appropriateness and order of test items.