WEEK 1: 30 Jan.-3 Feb. 2017
Hello all,
welcome back 🙂
We hope you all had a relaxing break and wish you a great Spring module!
We'll continue keeping you updated through weekly ScOLa News and here are some of this week's highlights:
1. We are pleased to announce our joint-event organised by the British Council and Özyeğin University on 'Exploring English, Skills and Employability: Industry, Alumni and Academia'.
This event intends to bring together speakers and guests from industry, academia and alumni to seek answers to the following questions:
•             How well do universities prepare their graduates for industry as far as English provision is concerned?
•             What are employers looking for as far as English skills are concerned and how can they collaborate with universities to ensure these expectations are met?
•             What are good examples/practices of industry feeding into the university English curriculum?
•             What are some of the challenges graduates face in meeting the demands of the international workforce in terms of English language skills?
•             How can the current English curriculum in universities be improved to enhance the employability prospects of their graduates?
 Please click to reach the  event website
We look forward to seeing all of you at the event. If you are planning to attend the conference, you are expected to make the necessary arrangements with your responsibilities.  If you have classes, please follow the regular make-up procedures.
Date: 17 February 2017
Venue Details: Özyeğin University, Çekmeköy Campus Nisantepe District, Orman Street, 34794 Çekmeköy – İSTANBUL / Law Faculty LF_AB3.150 Auditorium
 RSVP by 3 February 2017:
If you would like to attend, please send an e-mail to the conference committee.
aylin.yurtsever@ozyegin.edu.tr
2. This module three new instructors joined our family.
ŞAFAK ÇELİK
ÖZGE ONAY
DUYGU OLCAY
In order to have a smooth transition, they attended the orientation programme which included sessions about the university and the system of the ScOLa.
They will continue getting support throughout the year in their induction programme. They also have buddies in their teams but we know that you are all there whenever they need support or guidance.
Once again we would like to say WELCOME to them and wish them all the best in their new journey 🙂
3. We would like to update you about the Shaexperience Sessions through Mahir Hoca's message:
Dear Colleagues,
As you know, we, as UGE Courses group, have been organizing sessions where we share our experiences in terms of classroom practices, academic studies (i.e. master thesis, PhD dissertations, research papers, and so on.) and/or applications and tools through Internet. This we call Sharing Experience Sessions or in short, Shaexperience Sessions that has been going on for four years. The sole purpose of these sessions is, as the name suggests, to share what we experienced or are experiencing in or outside the class and thus attempt to create an awareness about what our colleagues are doing. Started in 2013, Shaexperience Sessions have been carried out especially after the semestre ends, during the prep days when groups prepare for the oncoming semestre. This year, as usual, we have conducted these sessions in two weeks and throughout this period, we have been able to realize 9 sessions that were open to all faculty in ScOLa. The presenters have shared their in-class practices, research findings or online tools with other UGE, ML and Prep instructors.
I believe these sessions have been most fruitful as they all received very positive feedback. More importantly, it provides the opportunity for the group members to get to know each other better and be more aware of what their interests are in their field of study. Therefore, we are expecting every one to participate and/or present at Shaexperience Sessions to be held in the near future.
Following instructors have contributed to Spring 2017  Shaexperience Sessions with their valuable presentations/workshops listed as below. Taking this opportunity, I would like to extend my heartfelt thanks to all of them. I am really proud to be working with such a dedicated, prolific and competent group of teachers and researchers.
Dr Mahir Sarıgül
UGE Program Coordinator
1. Dr Aslı Sağlam –      "ConsequentIal valIdIty of a local theme-based hIgh-stakes English language proficiency test"
Dr Aslı Sağlam –         "The Experience of Designing an Online Teacher Research Training"
2. Bedra Girgin   –          "Photography in the Classroom"
3. Dilek Salkı       –          "An Overview of the Prep Curriculum Renewal and Needs Analysis Process"
4. Mehmet Demir –        "Excel for all needs!"
5. Sedef E. Giovanelli – "The Representation of Food Culture as an Intangible Cultural Heritage in the Digital Era"
6. Sevgül Akbuz    –        "Implementation of the Principles of the Bologna Process in English Courses in  Bachelor's Degree Programmes in Turkey"
7. Dr Yamen Rahwan –   "Basics of Google Docs for Instructors"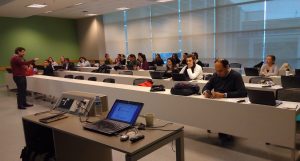 Dr Yamen Rahwan –   "Effective Use of Turn-it-in"
4. We would like to inform you that Bedra Girgin is going to deliver her session entitled "Photography in the Classroom" on February 9 at 09:00 and 14:45 in 220. Depending on your timetables, you can join the session in the morning or in the afternoon. Please find the details for the session below:
The majority of our students are quite fond of shooting photos, most of the time selfies, with their smart phones to share on social media.  Can it be possible to reshape their perception of photography and at the same time enable them to practice language by using photos more effectively in our classes? Can our students even become the providers of these photos and contribute to the lesson?  The session aims to offer various uses of digital photography in a language classroom to increase student participation and promote creativity.  Finally, further suggestions and questions will be invited.
Once again happy new module! 🙂